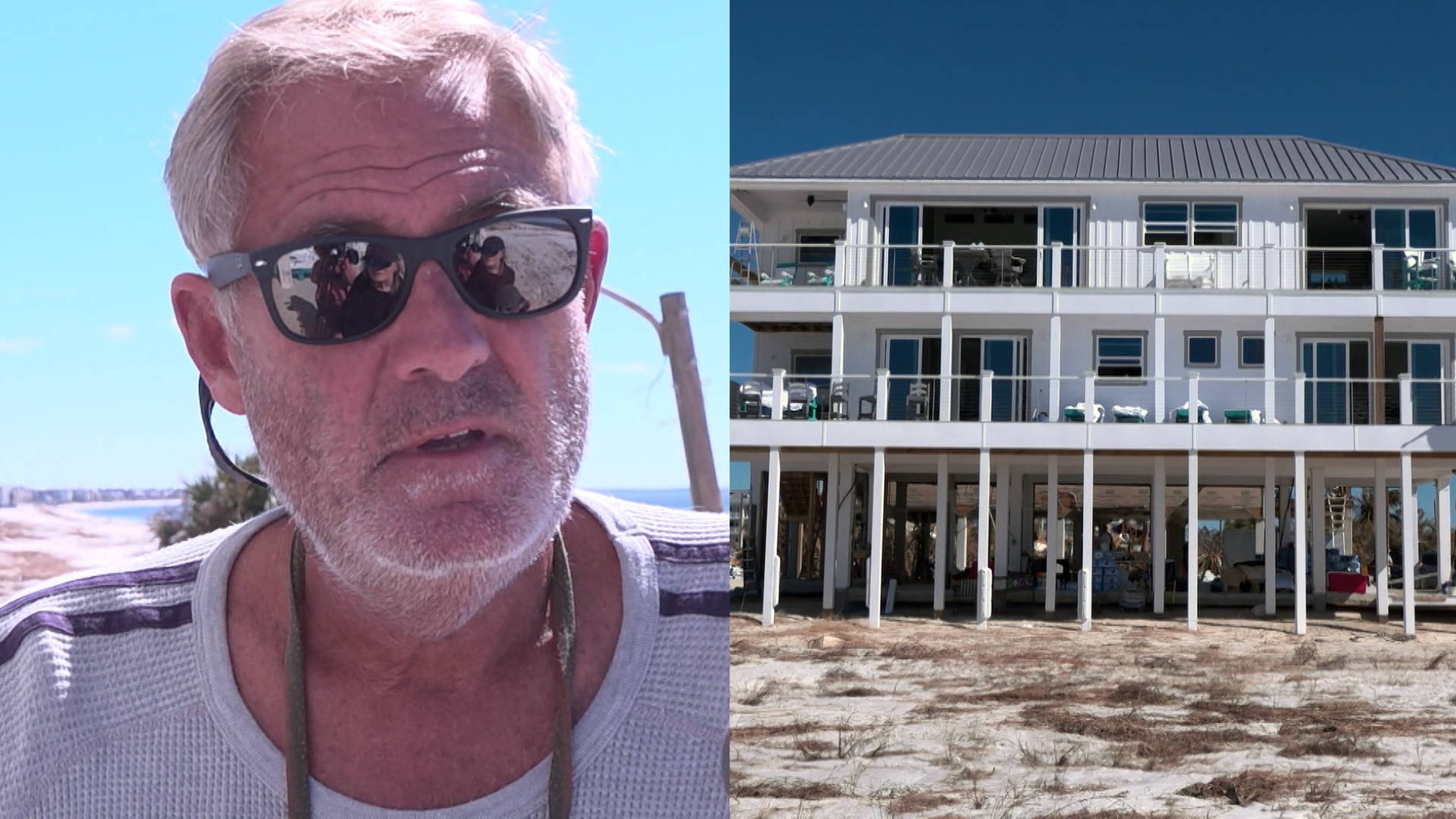 This is a rush transcript. Copy may not be in its final form.
AMY GOODMAN: This is Democracy Now! I'm Amy Goodman, as we go just 15 miles from the Tyndall Air Force Base in the Florida Panhandle to Mexico Beach, Florida, which was practically wiped off the map after Hurricane Michael. On the beach, one of the few houses that still stands—and the images of it are just stark—it's known as the Sand Palace. So, last weekend, we went to Mexico Beach. Democracy Now! traveled to the Florida Panhandle, and we found Russell King there, at his home, the Sand Palace. He's an attorney from Chattanooga who owns the palace.
RUSSELL KING: My name is Russell King, and we're here at Mexico Beach, and we're rebuilding. And Mexico Beach is a wonderful community, great people, and I'm confident that we're going to rebound.
AMY GOODMAN: So, your house, called Sand Palace, stands in stark contrast to the devastation all around you. Talk about how you built this house.
RUSSELL KING: Well, let me say this. This is really old country Florida, where the houses were on slabs. So, as you look back behind me and you see those houses, you know that they had no chance at all against the surge. When the big storm—whenever it was going to hit here, as it's hit other parts of Florida, it's going to devastate it. So that's why houses have to be put on stilts, as they say. And this house is on stilts.
AMY GOODMAN: This house is, in many ways, untouched. I mean, you have the stairs that broke away on the first floor.
RUSSELL KING: The ground floor broke away, which it's designed—
AMY GOODMAN: But that was intent—
RUSSELL KING: It's designed to do that way. I argued with them in the beginning, sure there was a way to secure it, but there's not. The ground floor, those few feet, you give up, and you don't have it structurally tied to the house, so it doesn't do damage to the house. So, whatever's down there is going to be wiped away. I mean, my big Primo grill is gone, the big monster grill that it took two people to move. And the storm picked up cars, picked up one man's house and put it on top of another man's house down here. It's incredible. Mother Nature is special.
AMY GOODMAN: But in about a year, you built a house to withstand 250-mile-per-hour winds, a Category 5 storm and beyond?
RUSSELL KING: We hope. And God knows I hope somehow these storms lose their ferociousness. The man that just left—you may have spoken with him—he stayed here during the storm. It was not this house, but he stayed a short distance away in Panama City. He said he'll never stay for another one again, as scared as he's been in his life. We're looking right now: How do we make it even better? Because another one is coming some day.
AMY GOODMAN: So let's talk about that. I mean, you built this house to withstand climate change, the increasing intensity and ferocity of these storms. Scientists say, I mean, overwhelmingly, that this is being fueled by human activity. Your thoughts on this?
RUSSELL KING: Well, I believe in the Bible. I also believe in science. And I don't know what all causes these storms to be so frequent now and so ferocious, but I did read Albert Gore's book 20, 25 years ago, and it made sense.
AMY GOODMAN: You're from Tennessee, though this is your beach house here. Tennessee, of course, the land of Al Gore, among others. And he has been a prophet on the issue of climate change for a long time.
RUSSELL KING: Yes.
AMY GOODMAN: You're in Florida, where the governor denies climate change. You're in a land where the president denies climate change. What do you say to them?
RUSSELL KING: I say look around and look at the science. I mean, sometimes people say things politically to be expedient, but if there's a 1 percent chance that human activity has contributed to this, that we need to look at that closely. And if there's scientists, if there's other data out there, I mean, show it to me. I don't know, except I see people down here hurting terribly. People have lost their homes. People have lost everything. Whatever the cause, whether it's human activity or not, to build down here, you're going to have to do more of this, and I'm going to have to do more, to survive the next one. But I would hope that the politicians would do more to try to deal with what's going on. I think if we can put a man on the moon, we can solve this issue of carbon. We can do that, if we have the willpower. But people need to quit denying science.
AMY GOODMAN: Why do you think it has happened? I mean, just down the road, I talked to a woman who is an owner of another house that did pretty well. And she talked about building to new standards, and that's why she thinks that happened. But when I asked her about climate change, she said, "I'm not going there." Why is this such a politically charged issue? Why isn't this just about science?
RUSSELL KING: Here's my opinion of that, and I may be wrong: They're confusing the message with the messenger. So, because of the fact, particularly because Gore jumped on that issue, then everybody else felt like they had to be against it; they can't be for it. It's just like you had a lot of people against Medicare when Medicare started, and now if you say anything bad about Medicare, it's political death. The same thing should be true, in my opinion, about science.
Now, my nephew built the house with me. We're partners in it. And he has doubts about it. He's a doctor, that has doubts about, you know, to the extent that human activity has contributed. And I don't know. Maybe it is a Chinese hoax. But what I'm looking at around here is not a Chinese hoax. Those are real people who are suffering terribly. And why someone would have the attitude, "I'm not going to even consider it. I'm not going to even consider the possibility of human activity"?
But if you start talking about coal in an election, you lose West Virginia and Kentucky and parts of Tennessee. But coal is terrible. Coal is not good. Coal—it's tough on the miners. It's one of the worst jobs in the world you can have, with a survival rate—I mean, look at their life expectancy in those coal mines. We can get other jobs for those people. They could be building solar panels. There's other things they can do. We just have to adjust the economy. There's a price to be paid for it. There's a price to be paid for putting a man on the moon, but we wanted to do it. And we can solve this, and it shouldn't be a Republican or a Democratic issue; it should be a people issue and a planet issue.
That's just incredible, that the greatest country in the world—we think of ourselves as the greatest country in the world—that we would fail to be leading on this issue. And there are some great leaders here. I mean, just because some politicians make political hay out of denying climate change and laughing about it doesn't mean that the rest of us can't do something. We told them in the beginning, "I want a concrete house that will survive a hurricane." There went my dormers, there went my roof, there went other things that I can show you in the house that we did. Less glass, more concrete.
AMY GOODMAN: And even according to the new standards, they said 30-foot pilings; you went for 40-foot. Talk about the meaning of that.
RUSSELL KING: It was just a slight difference, a couple thousand dollars, it seems like, to go a little bit deeper on the pilings. Whether that made a difference or not, I don't know. Thirty may have been just fine.
AMY GOODMAN: So, explain. The first floor is not a house. It's where the water can just—
RUSSELL KING: It's where we park our cars. That's the garage. And there was a storage room back there, and that storage room is gone now. It's just wiped clean, like it was never there.
AMY GOODMAN: Because the ocean just went through the first floor.
RUSSELL KING: It took it—took it out. And the building behind you there, where the workmen are, water was on that second floor—18 inches, they told me. Eighteen inches in that second floor. And we don't have any signs of water on the ground floor to see where it was, because they said it came in clean. And then, the further you get inland, the more you see the marks on the walls. So we don't know where we were, except we know we lost the ground floor, and it was probably right up to the ceiling down there.
AMY GOODMAN: But, of course, there, the water just came in, and then it receded, and you had nothing there to—
RUSSELL KING: That's right. It kept on going and took out other people, though. And then my debris can cause trouble downstream. So that's what we're looking at right now is how do we do things where we survive, we have the minimum amount of damage, and we don't damage other people.
AMY GOODMAN: Do you want to show me what you have inside?
RUSSELL KING: The only thing that I can think of that I didn't follow the engineer's advice on was this area here. So we had an Arlo camera up there that watched the whole storm come in. I couldn't watch it. My nephew kept calling me, and I kept hanging up on him.
AMY GOODMAN: Because you were too upset?
RUSSELL KING: I couldn't. I said, "Don't call me anymore." He'd call again. "Don't call me anymore." He watched the pier go out. He watched all the water come in, watched this turn into a part of the ocean. Total devastation. Probably everything you see probably is going to have to be torn down. This is the road to the pier, and there were townhouses on both sides of the road, all built on slab, and they're all destroyed. Not some of them or most of them; they're all destroyed. And that's true everywhere on both sides of Highway 98. The lady you mentioned that you talked to her—"Don't go there"—well, don't go there; go here. Go here. And look at that.
AMY GOODMAN: Do you think people should build so close to the ocean?
RUSSELL KING: Ooh. Probably not.
AMY GOODMAN: That's Russell King. He owned and built the Sand Palace in Mexico Beach in the Panhandle of Florida. It's one of the only houses to remain intact on the beach in Mexico Beach, built to withstand a nearly Category 5 storm. Russell King comes from Chattanooga, Tennessee, an attorney.
This is Democracy Now! When we come back, elite universities in the United States being questioned about their ties to Saudi Arabia and its funding. Stay with us.
🌼SHOW MORE